The Weather Outside Is Always the Right Time To Learn
No matter what time of year it is, building a weather station for kids is a great way to bond with your child, educate them, and keep them entertained all at the same.
This is an easy way to foster an interest in science at an early age, thereby laying the foundation of knowledge which can be built upon for years to come.
Here are some how-to tips on getting one ready to use with your young one. Here is a list of items that every kid's weather station needs.
Rain Gauge
Probably one of the most crucial items for putting together any children's weather station is the rain gauge. While these can be purchased from many a retail outlet, they can also be made very simply.
The easiest way to make a rain gauge is to simply put an empty jar outside and let it collect the rainwater or even snow. You can measure out with a colored marker, how much a tenth of an inch is and mark it out all the way to 3 inches.
Your kid can then see simply how much rain it takes to let's say collect a half-inch of rain. From this, the child can measure exactly how much precipitation has collected over a set amount of time.
You could have the child or children then log in a notebook the extended period of time and how much it rained.
Barometer
A barometer is a tool that measures air pressure. This is one way in which meteorologists can predict the weather.
By letting the child try and predict the weather from information gleaned from a barometer, parents are actually cultivating weather education for kids.
Barometers come in two different kinds, mercury, and aneroid. You probably don't want to attempt to build one by hand but here is a simple highly rated and popular barometer that you may look at and purchase from Walmart or Amazon, your choice.
---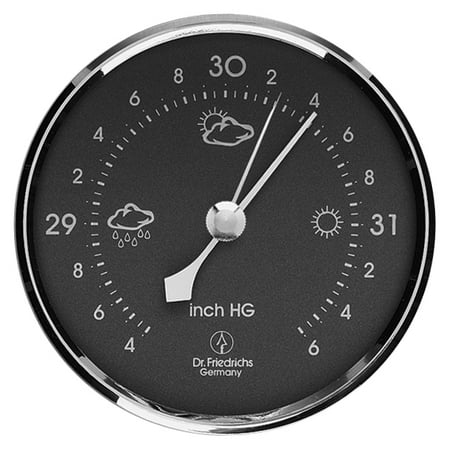 Precision Barometer 3.25 inch Gray Scale

Ambient Weather WS-152B 6

---
Hygrometer
Hygrometers are devices that are used by meteorologists to measure the atmosphere's relative humidity. This is also a very important tool when being used for weather forecasting for kids.
A hygrometer, additionally called a psychrometer, is a gadget that is made use of to determine the humidity airborne. A typical method these devices job is using a product that attracts wetness, which changes depending on how damp it is.
The possibly most basic approach of these is to utilize human hair. The hair will certainly change length, relying on the moisture. Hence, it determines the relative humidity level of moisture of a specific location.
Each is utilized on a chart to discover the relative moisture content of that temperature level as well as the area.
A small distinction between the temperature level of the bulbs reveals a high amount of moisture coming from a reduced dissipation price.
---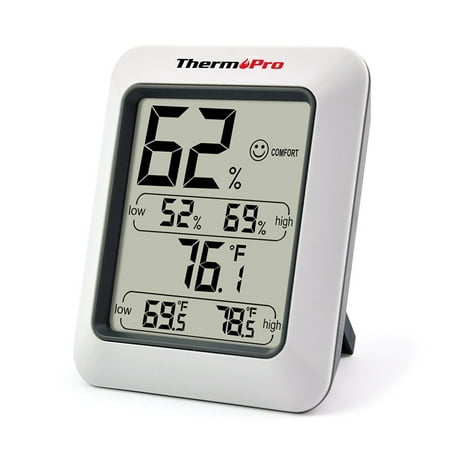 ThermoPro TP50 Hygrometer Indoor Humidity Monitor

In completely dry air, dissipation occurs quicker showing a big difference in temperature level thus offering you a low relative humidity.
A hygrometer can be looked at and purchased here if you are interested, for under $10.
This is a very essential part of putting together a kid's weather station for learning.
---
Weather Vane
Many parents automatically think of one of the old-fashioned weather vanes shaped like a rooster when they think of a weather station for kids. They are not off the mark at all when thinking this way as the humble vane is perhaps the most iconic part of a proper weather station.
Children can easily record which way the wind is blowing by paying attention to what direction the vane turns to. It can also help with them learning their raw navigation direction (north, south, east, west.)
If a weather vane is not available or cannot be attached anywhere (such as an apartment building), a windsock may be substituted.
They perform the same function as a weather vane and can easily be made from an old shirt sleeve or pant leg.
Anemometer
Unlike a weather vane or windsock, which is used to determine which way the wind is blowing, an anemometer is used to determine the speed at which the wind is blowing.
Just like a hygrometer, an anemometer these are an important part of putting together this learning kit for your child. For more information on anemometers, you may want to read our article about anemometers.

These can also be sought out at hobby shops or science shops. Some hardware stores may also keep them in stock.
---
---
Using a Weather Journal Helps the Learning Process
A journal is an easy way for children of all ages to keep track of their weather information for kids.
Younger children may want to just draw a picture of what the weather was like that day and perhaps make a single-letter notation of which direction the wind blew.
Older children may want to keep more detailed notes, such as the date, the weather, humidity level, and perhaps even male predictions on future weather based on the information they gathered that day.
Weather Station For Kids Can Be Fun
By purchasing or making the aforementioned tools, a family can have quite a bit of fun and even learn many interesting things by making their own weather station for kids.
In fact, even kids that tend to not want to do "educational" activities will find themselves engrossed for hours when they wander around the outdoors, not only getting fresh air but "flexing" their brain as well.
Read More About Weather Stations For Kids-View Related Posts Below
Kids Interest In Weather-How To Best Introduce Your Child to the Weather
Kids Interest In Weather-How To Best Introduce Your Child to the Weather is a very important subject to me. I go into some ideas on how to stir up the young minds.
Piquing Their Curiosity-Kids Weather Stations & Weather Information
Be responsible to your kids, they are naturally very curious about life as they begin to grow and develop.
George is a big fan of the weather. He has enjoyed for years observing all types of weather in several places he has lived. He shares his love by doing reviews of personal weather stations and discussing several key elements that are related to using weather stations.